The Buckley Opera
« Return to list of events
Date & time

On&nbsp26-Apr-2019&nbspat&nbsp20:00

Venue

Memorial Hall, 994 Point Nepean Road, Rosebud.

Created by

Site Admin
Event details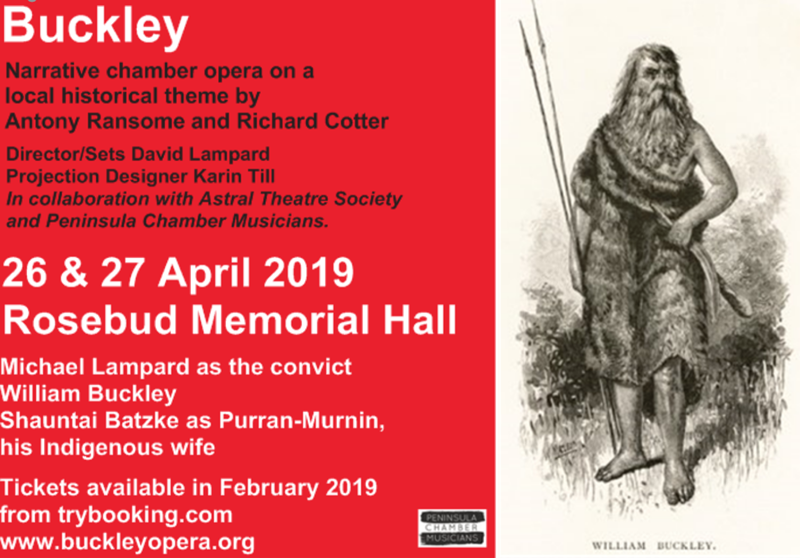 Narrative chamber opera on a local historical theme by composer Antony Ransome and librettist Richard Cotter.
A new opera presenting this story of convict William Buckley, who arrived with Lieutenant Governor Collins' fleet at Sorrento in 1803. Buckley escaped & spent 32 years living with the Wathaurong people on the Bellarine Peninsula.
Since 2014 Antony Ransome the composer, a Rye resident, and Richard Cotter, the librettist, who lives in Blairgowrie, have been working together to create & raise awareness of this exciting story. It will come to life through staging, solo performances, instrumentalists and chorus, and dynamic projections and set design.
The history-based text will include Aboriginal language. Purran-Murnin, Buckley's Aboriginal wife, will be sung by lyric soprano Shauntai Batzke. She is a principal artist with Australia's sole Indigenous Opera Company 'Short Black Opera' and an alumna of the Melba Opera Trust. (More about her can be found on the Buckley Opera Facebook Page and Instagram page.)
Michael Lampard (baritone), who will sing the role of William Buckley, is a graduate of the Tasmanian Conservatorium of Music. He is a recipient of many prizes and has already made a name for himself on the international operatic stage; he has, in particular, been involved in a number of contemporary works. Michael also has a large repertoire in oratorio and song. His latest role for Melbourne Opera was that of Kurwenal in their recent successful production of Wagner's Tristan and Isolde.
Tickets available February 2019 from trybooking.com